You probably
remember
that I've made my mother a lot of tablerunners. What I haven't made for her are a lot of bed quilts. Over the past 25 years I've only made her three and I think she should throw one of them away -- I scissor-cut the squares from my leftover clothing fabric, sewed it with 5/8" seams, backed it with a cheap bed sheet, and tied it with embroidery floss. It's the first quilt-type-thing I ever made. It's falling apart and I'm embarrassed by it. Shouldn't she throw it away? Leave your vote in the comments.
So last fall Mom sent out some serious hints that she wants a new bedspread. She likes bright colors. My solution to Mom's shocking lack of bed quilts:
I used my
Dream a Little Dream
pattern. It can be made from layer cakes, fat quarters or yardage, but I made it from bright fabric scraps that I had on hand. It is 99x98 inches, very easy to piece and slightly time-consuming to bind (it's a huge quilt!).
(If you look at the background of the photo you will see patched drywall. Yes, that's my bedroom. It's seriously under construction.)
I entered this quilt at Gen X Quilters. Check out the other entries: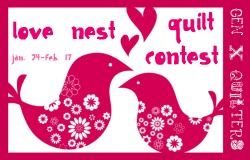 Check out some other great finishes at